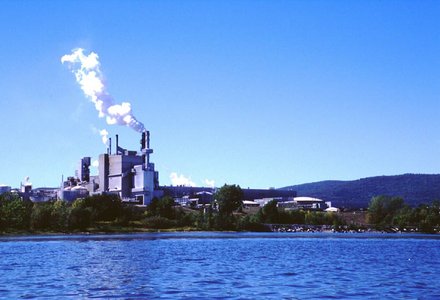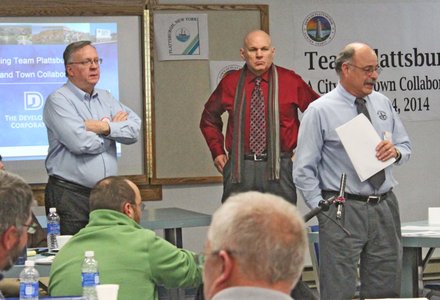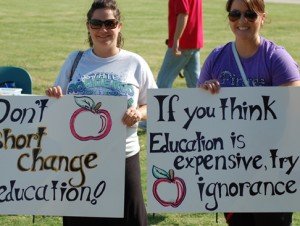 Mon

Tue

Wed

Thu

Fri

Latest stories

Proposed natural gas spur to benefit county's largest private employer
International Paper (IP) passed a major hurdle towards developing a new energy source for their mill in Ticonderoga on Wednesday, April 9 when the Addison County Regional Planning Commission (ACRPC) voted to support a pipeline that would direct natural gas to the plant.
Central New York educators can take advantage of courses designed to help them implement the Common Core curriculum at OCM BOCES next week. From 8:30 a.m. to 3:30 p.m. March 27 and 28, educators in the Syracuse area can attend Discovery Education's Common Core Academies at BOCES' Central New York Regional Information Center, 6075 East Molloy Road, Syracuse. The courses will be lead by Common Core state standards expert Dr. Karen Beerer and hosted by Discovery Education, a publisher and content provider that offers textbooks and multimedia content that support Common Core implementation.
Community college students may soon have a harder time finding child care while they go to school. In his 2014-15 executive budget proposal, Gov. Andrew Cuomo proposed cutting $653,000 from the state's operating grant to the State University of New York's child care centers. The cut would come in addition to a reduction in the federal Child Care Block Grant, which subsidizes care for children of needy student-parents. While the New York State Senate restored Cuomo's cut in their budget proposal, advocates say the cuts faced by SUNY centers in the last several years are still devastating and need to be restored. And it's community colleges that will likely see the most damaging consequences.

Department heads from both the city and town of Plattsburgh met for several hours to brainstorm on how they can work together to provide better service at lower costs.
According to Gov. Andrew Cuomo, New York is looking at a $2 million budget surplus. Cuomo has talked a lot about the surplus and his plans for it. Unfortunately for him, it's not his money to spend.
The 2014 DeVesty-Williams Scholarship will be awarded in early May by members of the Syracuse Press Club at its annual awards banquet. This $2,000 scholarship will be given to one full-time undergraduate student, who is majoring in print or broadcast journalism at a college/university in the Syracuse Press Club service area. The student scholarship recipient also must be a permanent resident of one of the following counties: Onondaga, Madison, Cortland, Cayuga, Oswego, Jefferson, St. Lawrence, Lewis, Herkimer, Oneida, Otsego, Delaware, Chenango, Broome, Tioga, Chemung, Tompkins, Wayne, Seneca, Schuyler and Yates. A student's college residence is not considered a permanent residence. All students who fit the above criteria are encouraged to apply.

School districts in Central New York and beyond are in trouble, and it's time we do something about it. That's the message behind a pair of forums to be held Feb. 4 and 5 in Auburn and North Syracuse by the Central New York School Boards Association (CNY SBA) in conjunction with the Onondaga-Cortland-Madison, Cayuga-Onondaga, Tompkins-Seneca-Tioga and Oswego County BOCES. The forums, which will take place at Auburn West Middle School and North Syracuse Junior High School, respectively, will focus on the major factors causing those financial issues and how school administrators, teachers and community members can make a difference.
Local voters have agreed to OCM BOCES' proposed facilities referendum with a 93 percent approval. One thousand four hundred and one votes were cast, with the final tally being 1.293 yes votes and 105 no votes on the referendum, which called for the purchase of the former Nationwide Insurance building in Salina and which will not increase costs for any of its 23 local component school districts.

The Central New York SPCA is looking for the community's help to raise the money to construct more than three dozen new kennels to improve the health and safety of their large dogs, accomplishing the second phase of a project they call Kennels for Canines.
On Thursday, Jan. 23, voters in 23 school districts across three counties will be asked to go to the polls to approve a building purchase that will have no impact on their wallets. Onondaga-Cortland-Madison BOCES is looking to purchase the former Nationwide Insurance building, located at 110 Elwood Davis Road in the town of Salina. According to BOCES information officer Laurie Cook, the purchase would allow OCM-BOCES to relocate several programs now housed in leased space.
The lack of available help from senior care agencies is just one of the reasons New York state was ranked 48th in a 2011 national report by AARP's Public Policy Institute, the Commonwealth Fund and the SCAN Foundation out of 50 states with regard to support for its family caregivers. Caregivers also face extensive waiting lists for adult day care programs and rehab facilities, a lack of support for in the work environment, limited or no access to transportation and inadequate informational resources regarding care options for their loved ones. And with the Baby Boomer generation moving into their golden years, the problem is only going to get worse.

'Tis the season of giving, and you needn't look too far to find a worthy recipient for your time and financial donations. Central New York has a wealth of deserving organizations doing good, and they're all in need of your support. To get you started, here's an A-to-Z primer (minus X), complete with a description of each along with websites, contact information and basic needs. Remember, these are just a few of the many deserving nonprofits in Central New York, and the introductions offered barely scratch the surface of the services they offer. Check out the websites of these organizations for more information. Got your own favorites? Feel free to share at Facebook.com/eaglestarreview.

A childhood friend of the woman killed Sunday afternoon on Route 57 has launched a fundraiser to help her family pay their medical expenses and funeral costs.

For 15 years, Terri and Vince Cook thought they had a daughter. But as they watched their child change from the vibrant, happy kid they'd always known to a withdrawn, depressed and ultimately suicidal teen, they knew something was very wrong. "We'd been through the hard teenage years with [our older son], and we'd seen this," Terri Cook said. "This was different. This was someone who was just struggling and nobody could figure out why." It took years of turmoil before the Cooks could determine the root of the problem: Drew Cook was transgender, which meant that although he was physically female, he identified mentally and emotionally as a male.