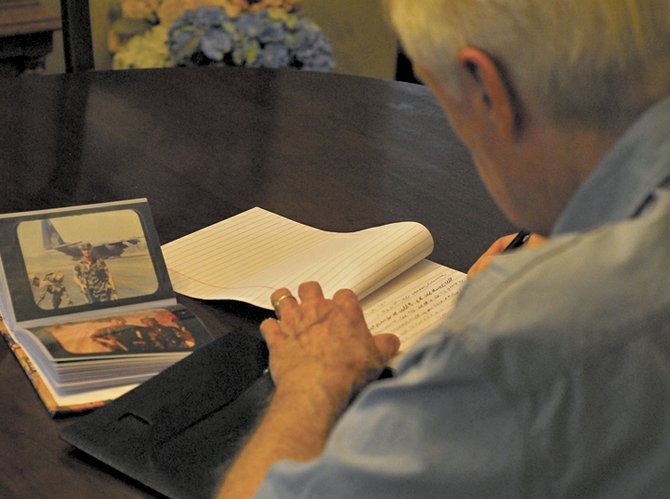 From the vets
Group participants join for different reasons, and have different goals. Here is what some veterans who write with the group had to say:
Robert Marcuson: A 'Grunt's-eye view'
Robert Marcuson is a Vietnam vet and member of the group. He was wounded by friendly fire during the Tet Offensive as an infantry soldier. In 2004 he created his own Website, gruntseyeview.com, where he posts letters from the experience and writes his memories.
"Writing is what I do," he said. "The veteran thing I really didn't intend to do until I got into the Website and started writing about it. As memories started recurring I decided, if I do enough of this maybe I could write a memoir. It hadn't been my initial intent to start writing about war."
Elizabeth Hall: A vital outlet
Stationed with a civil affairs battalion in Iraq, Elizabeth Hall made connections with some of the families there that continue today. She values her 16-month deployment, and the opportunity to write about it as part of the Syracuse Intergenerational Veteran's Writers Group.
"I always liked to write so it was kind of a nice outlet for me," she said. "I've always been a very good writer. I just kind of use it so I don't forget things and I can have some clarity. The writing helps me keep those things alive so that eventually I'll have my own war stories to tell grandchildren."
Peter McShane: A level of trust
McShane was a Green Beret medic in Vietnam. He was motivated to become a well-honed writer after attending his medics class reunion in 2005. He, too, has found a home in the local writing group.
"When I found out about the Syracuse Veteran's Writing Group I decided I wanted to join because I've found when you are in the company of people who have had similar experiences it's easier to tell your story," he said. "Sometimes there's a level of trust there that might not be there if you were in a workshop with civilians that didn't have a clue of what goes on in a soldier's life."
Derek Davey: Truth from the heart
Derek Davey served in the Marine Corps as a naval flight officer from 1977 to 1985. His son, Marine Cpl. Seamus M. Davey, was killed in action in Iraq in October 2005.
Davey lost a son, friend, and brother Marine, he said.
"I have a lot of opinions on a lot of things, including political," Davey said. "I'm not sure of this, but I think people sometimes hear me out when I speak of things and they kind of shake their heads in agreement because I'm a gold-star father. I would much rather be able to get a message across just by speaking the truth from my heart and have people judge it that way other, than just saying 'OK, give this guy the benefit of the doubt because of what he's been through.'"
Matt Liptak is a contributing writer. Reach him at matthewgliptak@gmail.com.
(Continued on Next Page)
Prev Next
Vote on this Story by clicking on the Icon
More like this story