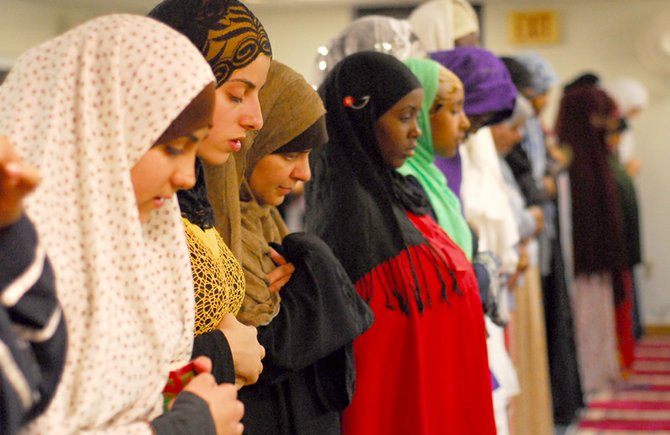 SYRACUSE — Editor's note: During Ramadan, the Islamic Society of Central New York invites local community organizations to join the Muslim community for the fast-breaking Ramadan meal, Iftar. On Wednesday, Aug. 17, members of InterFaith Works were special guests at the mosque. Contributing writer and ISCNY member Amanda Gormley shared her account of welcoming the neighbors for their first visit to the mosque.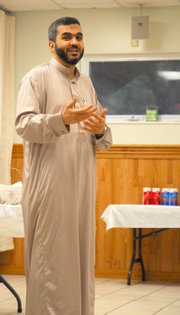 The Islamic Society of Central New York on Comstock Avenue is a source of curiosity for anyone who has seen it. With its tall blue minarets, the mosque stands out against its university setting.
During the lunar month of Ramadan, Muslims fast from just moments before dawn until dusk, when the sun has fallen below the horizon. (Ask any Muslim during the month of Ramadan what time sunset is and we'll tell you to the exact minute.)
While ISCNY holds a year-round open door policy for guests and visitors, Ramadan offers a unique opportunity to engage with the community. Just after sunset, Muslims pray the sunset prayer and share Iftar, a community meal. Throughout the month of Ramandan, ISCNY invites guests, neighbors and members of local associations to visit the mosque and share a meal with the Muslim community. 
Visitors come to the mosque with a sense of curiosity, and a desire to build an understanding of the Muslim community.  Men and women dress modestly, and women often wear a scarf over their head (hijab) out of respect for the Islamic tradition of veiling the hair.
Entering the doors of the mosque, guests are ushered to a brightly lit, buzzing community room in the basement. Tables and chairs have been prepared and the smell of Indian food wafts faintly in the air.
Young men from the Muslim community serve as ushers. One boy jokes that he's not sure which greeting to give the guests: a simple "hello," or the traditional Islamic greeting, "Salam Alaikum"? He settles for a shy, "welcome, thank you for coming tonight." 
(Continued on Next Page)
Prev Next
Vote on this Story by clicking on the Icon