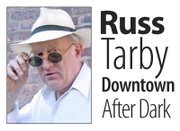 SYRACUSE — Bruce Jackson is Buffalo's Brahmin of pop culture.
The big, barrel-chested, bearded dude might look like just another aging hippie, but he's a bona fide international hero of arts, letters, films and photography.
Jackson's most recent photo exhibit, "American Chartres: Buffalo's Waterfront Elevators" hangs through Oct. 28 at the Erie Canal Museum, 318 Erie Boulevard East, behind City Hall, downtown.
The French poet Dominique Fourcade saw the elevators during a visit to Buffalo a few years ago. He was awed by their size and beauty and he inspired the name of Jackson's exhibit.
"This is the American Chartres," Fourcade exclaimed.
'Current urban landscape'
"American Chartres" documents the grain elevators that remain standing along Buffalo's harbor as part of the urban landscape. Grain elevators were invented in Buffalo in the 1840s, and the city once had more than 30 working elevators. Today, few remain in use, others are empty, but many have been destroyed.

Although these Jackson snapshots capture vintage structures such as the Great Northern Elevator built in 1897 and the Agway Elevator build in 1909, the photographer insists that the exhibit is much more than a document of historic architectural remnants.
While he admits that the remaining grain elevators stand as "architectural monuments to an industrial past that will never come again," he adds that "they are also magnificent pieces of Buffalo's current urban landscape — and that's what these photographs are about. They are about the visual present, not the imagined past."
'The myth of Newport'
Speaking of the imagined past, Jackson has written and spoken out to clear up a common misunderstanding about the 1965 Newport Folk Festival, where he was one of the directors. Plenty of people believe that Bob Dylan was booed off the stage there on July 25, 1965, after playing three tunes with an electric rock band.
(Continued on Next Page)
Prev Next
Vote on this Story by clicking on the Icon