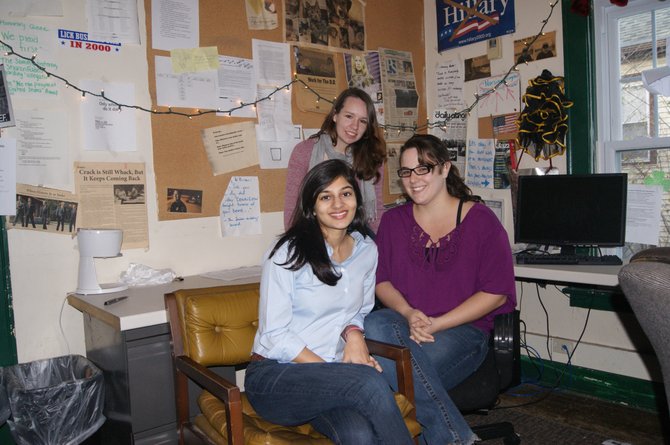 continued — The staff returned from fall break to put out a special edition of the paper, without advertisements. The eight-page spread was printed just hours after the university terminated Fine. The bold, large print headline "Fine Fired," showed the severity of the situation on campus.
"The paper kind of became a way for students to catch up on what they had missed," McBride said. "The paper became even more timely for the students."
Jim Romenesko, a world-renowned journalism blogger and expert, wrote about the special edition of The Daily Orange on his web page.
The paper's continuing coverage of the case has strengthened relationships between sports and news, two sections that often remain separate.
A lot of people couldn't believe it was happening, and they couldn't believe it was happening to Bernie Fine at Syracuse.
— Dara McBride, editor in chief
"It's become more of a collaboration," Delaney said. "At first, it was like, 'Whose jurisdiction does this fall under?' But it's different, because it's news that deals with sports."
The ensuing weeks have been a lesson in journalism, and finding a balance between school work and reporting.
"Right now, we're competing with ESPN, CNN and the Post-Standard," Delaney said. "It's difficult to compete with them because they have all day, and we're still students. It's daunting and it's nerve-wracking because when something happens in 20 minutes, we're still going to cover it, but we're students going to class, and finals week is coming. I have that feeling of unpreparedness [for finals week], but it's diminished by knowing it's a national story and people reading the DO now aren't just people in the SU community."
"But I think we're putting up a good fight," Mainthia added.
When print isn't the fastest method, or feasible, the editors have been using the web site to keep the community up-to-date. Their web site traffic has exploded and their social media presence has increased significantly since the news broke. DailyOrange.com had one of the highest number of hits in the 24 hours following ESPN's story — 17,203.
Vote on this Story by clicking on the Icon