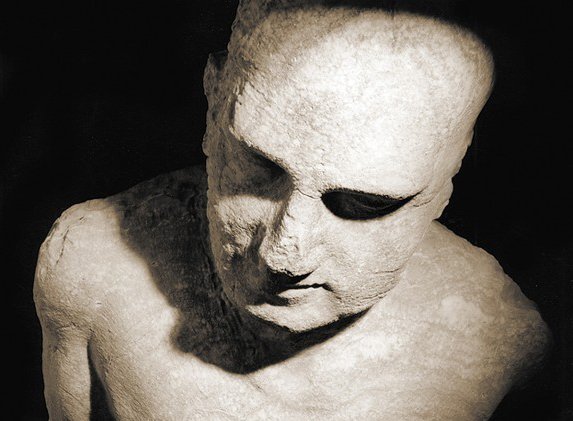 SYRACUSE — Inspiration for Ty Marshal's latest project actually came while he was researching a different concept.
Marshal, a local artist and activist who prefers the label "inter-disciplinarian," had set out to find whether Onondaga Lake had ever been rumored to harbor a lake monster.
Instead, he discovered a nearly 150-year-old hoax that entangled P.T. Barnum, the courts and thousands of residents, and began a few miles from Syracuse.
Heck of a hoax
In case you haven't heard of the Cardiff Giant, here's a breakdown:
Workers digging a well on Oct. 16, 1869, uncovered what appeared to be a 10-foot 4-inch petrified man on the farm of William C. Newell in Cardiff, about 12 miles south of downtown Syracuse.
Of course, the giant was a contracted carving, and the workers weren't digging a well — they were digging up the statue they'd buried a year earlier. But the goliath was put on display right there on the farm, where Newell charged 25 cents per viewing, and it was six months before the jig was up.
"Giants were a thing back then," Marshal said. Petrified, or fossilized, giants had been popping up all over the world for years by the time the Cardiff Giant was uncovered. So it was no surprise that locals showed up by the wagon load to get a glimpse of their own giant.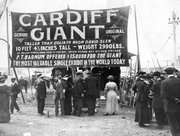 Word traveled fast, and after the Syracuse Journal reported the finding, the price to see the spectacle doubled. Less than a week later, a five-man syndicate from Syracuse purchased the petrified "man" for $23,000, moved him to Syracuse and started charging a dollar a view. Syndicate investors included banker David Hannum.
After an agent reported back that more than 3,000 people had lined up for a glimpse of the goliath one afternoon, P.T. Barnum offered the owners $50,000 to buy the giant. They refused, so Barnum created his own giant, put it on display, and started calling the Cardiff creature a fake.
Editor's note: P.T. Barnum offered $50,000 to purchase the giant from the Syracuse syndicate, not $150,000 as written in the story originally. We apologize for the error.
(Continued on Next Page)
Prev Next
Vote on this Story by clicking on the Icon