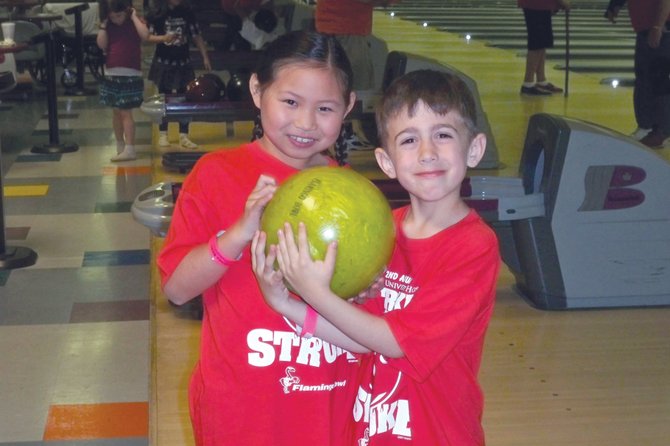 Liverpool — When she was just 17, Kim Head was at a high school dance with her boyfriend when the right side of her body suddenly shut down. She lost her ability to speak, and she developed a piercing pain behind her left eye.
Though she was only a senior in high school, Head was experiencing a stroke.
She was rushed to the hospital in Hamilton and then moved to Upstate Medical Center in Syracuse. Doctors found that her stroke was the result of arteriovenous malformation (AVM), a typically congenital abnormal connection between veins and artieries. After brain surgery and extensive therapy, Head was able to make a full recovery and graduate on time.
In order to help stroke patients like Head, Upstate Medical University's Upstate Stroke Center is holding its third annual Strikes Against Strokes bowling fundraiser on Sunday, May 6 at Flamingo Bowl in Liverpool. The idea came from Head's sister, Carrie Head Garcia, who now lives in Clay.
If you go:
What: Strikes Against Strokes fundraiser for Upstate Stroke Fund
When: 10 a.m. to 2 p.m. Sunday, May 6
Where: Flamingo Bowl, 7239 Oswego Road, Liverpool
Cost: $15 for stroke survivors, $20 for kids, $30 for non-stroke survivors
Third annual bowling event to benefit the Upstate University Hospital Stroke Fund to support patient and family education, direct patient care needs and raising community awareness. Bumper bowling and ramps will be available and walk-ins are welcome. The event is handicapped accessible. Registration must be completed by April 25. Download registration form at upstate.edu/speci....
"Strikes Against Stroke began three years ago in May of 2010," Garcia said. "With the support of Sharon Zalatan Klaiber, [director of nursing in the neuroscience department at Upstate,] we chose May because May is Stroke Awareness Month. It all got started as a result of my desire to have a fundraising event that was strictly focused on stroke and for stroke survivors."
(Continued on Next Page)
Prev Next
Vote on this Story by clicking on the Icon