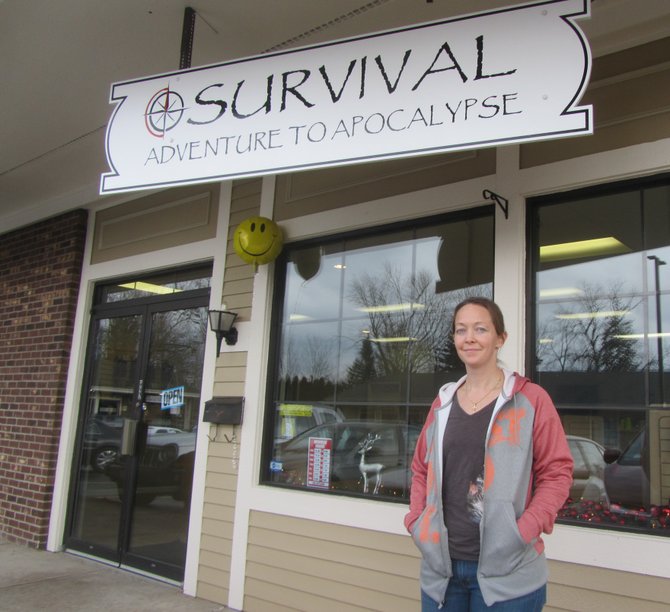 Fayetteville — Calypso Ford says her new store, "Survival: Adventure to Apocalypse," is not just for the coming end of the Mayan calendar on Dec. 21 which some are calling the end of days.
"Some people want it to be, but I said that would be silly for me to put all this energy into opening a store for a week," she said. "Plus a lot of my stuff won't even come in for another month."
But the timing of the store opening in Fayetteville Square couldn't be better for those looking to prepare for the worst.
Survival: Adventure to Apocalypse is stocked with backpacks, waterproof notepads, rechargeable speakers, flashlights, MREs (Meals Ready to Eat) and much more. Ford says the MREs are going fast and she expects Wise Company's food products — which were featured on the National Geographic reality TV show "Doomsday Preppers" — to do the same when they arrive later this month.
"Because it's freeze dried and it will last 25 years," she said.
The emergency-preparedness store had a soft opening on Saturday, and Ford plans to host a grand opening in January when the shelves, currently stocked at about 60 percent, are fuller.
"We made a ton of sales," Ford said of opening day. "I was shocked by all the people that came in."
Steve and Melissa Williams, of Oneida, came in on Sunday after seeing the sign out front earlier in the week. Steve Williams, a stay-at-home dad and former Army reservist, wants to be ready for anything —natural disaster, something toxic getting into the water supply, you name it.
"There are just so many different things that are going on in the world now," he said. "I don't think it's the end of the world, but anything can happen."
"Everyone really has a different idea in their head of what's gonna happen," Ford said. "My big fear is overcrowding."
(Continued on Next Page)
Prev Next
Vote on this Story by clicking on the Icon