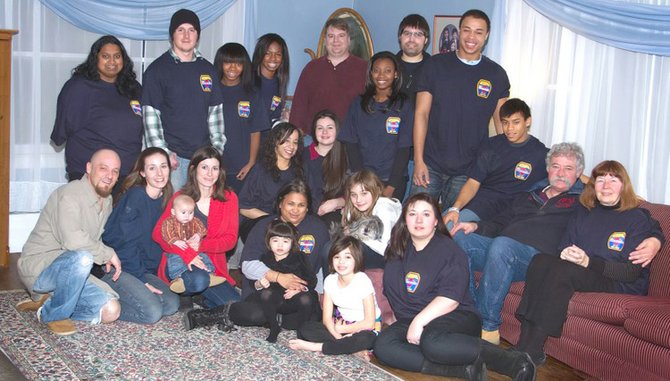 Skaneateles — Members of the Skaneateles Fire Department will hold a bottle and can drive in late March to help support a home remodeling project for a family with 29 children and a father with failing health.
"I have met the family and that's why I'm here," SFD firefighter Paul Jones told the village board of trustees at its Feb. 9 meeting. "We have an opportunity to lend a hand."
Jones attended the meeting to ask the board's permission to use the fire hall as the repository for the collected bottles and cans during the March 23 weekend.
The bottle drive is to support the Johnson Family Home Project, which was started last December by the Syracuse Fire Department and McClurg Remodeling and Construction Services to help retired Deputy Syracuse Fire Chief Dave Johnson and his family.
Johnson and his wife Diana have lived for years in a three bedroom, two bath home in Tully where they have raised 29 children: three biological, 14 adopted and 12 foster children. The house is badly in need of substantial repairs.
"With one son, Andrew, battling Crohn's Disease and Dave's health failing at a fast rate, they simply can no longer handle the much needed repairs themselves," according to the Syracuse Fire Department's website for the project, johnsonfamilyhomeproject.com.
The goal of the project is to raise $200,000 in order to completely remodel the Johnson home.
The Johnsons actually were nominated by their community in early 2011 for the ABC television show "Extreme Makeover: Home Edition." When ABC did not select the Johnsons for the show, Scott McClurg of McClurg Remodeling and some of his friends from the Syracuse Fire Department decided to renovate the Johnson home as a community project.
It is hoped the remodeling will being this spring.
Jones and the Skaneateles Fire Department are asking community members to save all their bottles and cans for the next month-and-a-half and bring them all to the SFD Fire Station at the corner of West Genesee Street and Kane Ave during the weekend of March 23 to 25.
"This is a good opportunity for the fire department to show they care, and to show they care about a fellow firefighter," Jones said.
For more information or to make a contribution, volunteer or donate materials, visit the project website named above or on Facebook at facebook.com/JohnsonFamilyHomeProject.
Jason Emerson is editor of the Skaneateles Press. He can be reached at editor@skaneatelespress.com.
Vote on this Story by clicking on the Icon