SYRACUSE — Robert Congel has a love for Syracuse.
The leader at the helm of Pyramid Companies has chosen to live and work in the region, perpetuating the development done here.
"Our community is a great place to live," Congel said. "I can't ask for anymore."
Congel's grandparents moved to Syracuse from Italy in the 20th century, settling in Syracuse and planting their roots in the city. His grandfather, who worked on the railroads and picked beans, became a wealthy man.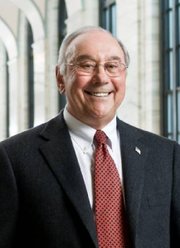 "He used to tell me, 'Bobby, don't let anything happen to this country. You have a good idea, somebody will give you money,'" Congel said.
His grandfather used to remind him that goals were obtained, always with hard work.
"It's always there if you go for it," he said. "And that's what I do. You have to have desire, pride."
Congel is the founder of both Pyramid and Destiny USA. He started in Syracuse in the construction industry as a contractor. His employees start each day at 6 a.m. The early hours, he said, gives the company an edge.
"It's a home-grown company," he said. "This is where we started."
Pyramid has transformed numerous properties and sites in the area, including the Clinton Exchange building in Clinton Square, where Pyramid is headquartered.
"We've committed a great deal to Syracuse, because that's the right thing to do," he said. "I have a passion for Central New York."
Vote on this Story by clicking on the Icon