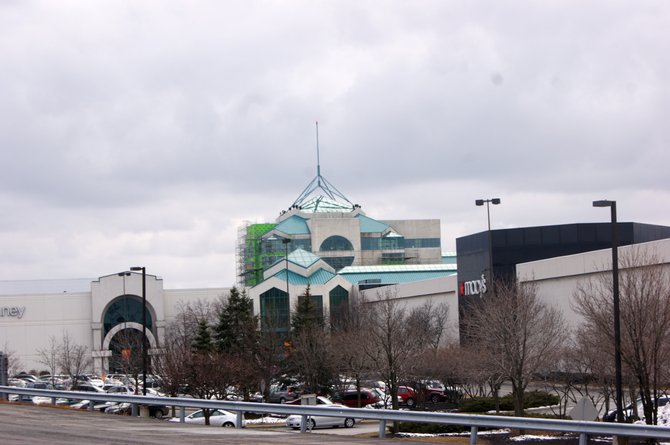 SYRACUSE — Sustainability and environmental consciousness has been a top goal for the Pyramid Group as it constructs the Destiny USA expansion.
The building has been granted the gold level of Leadership in Energy and Environmental Design, or LEED, certification in recognition of this commitment. The LEED standard is established and certified by the U.S. Green Building Council and demonstrates a building's adherence to a number of sustainable and environmentally friendly practices of construction and maintenance.
By undertaking a project of this size, Destiny USA hopes to set an example of how these practices can be adapted and used for construction of large-scale buildings, Destiny executive David Aitken said.
"Part of the goal in doing this is to commercialize these methods so they can become standard for future projects," he said.
Examples of sustainable practices used by Destiny USA in the construction process include using 90 percent materials diverted from landfills, 276,000 gallons of bio-diesel fuel and the purchase of more than 11 million kilowatt hours of green energy, which is associated with clean and renewable energy sources.
There are also sustainable elements built into the structure such as a solar-reflective roof that helps control the temperature inside the building, LED lighting and a rainwater harvesting system and low-flow toilets, which will conserve four million gallons of water per year, according to Pyramid.
Sustainable building practices has been a growing trend in the Syracuse area, Aitken said. Central New York is an area that has had problems with pollution and brownfields, or locations of former-factories where there may be hazardous waste.
This trend has been supported by the chapter of the U.S Green Building Council located in Syracuse and educational institutions with environmental programs such as the State University of New York College of Environmental Science and Forestry and Syracuse University.
"This has been kind of a green journey for us," Aitken said. "Given the condition of Lake Onondaga and the fact that this space used to be a Brownfield, this project takes this property full circle."
(Continued on Next Page)
Prev Next
Vote on this Story by clicking on the Icon