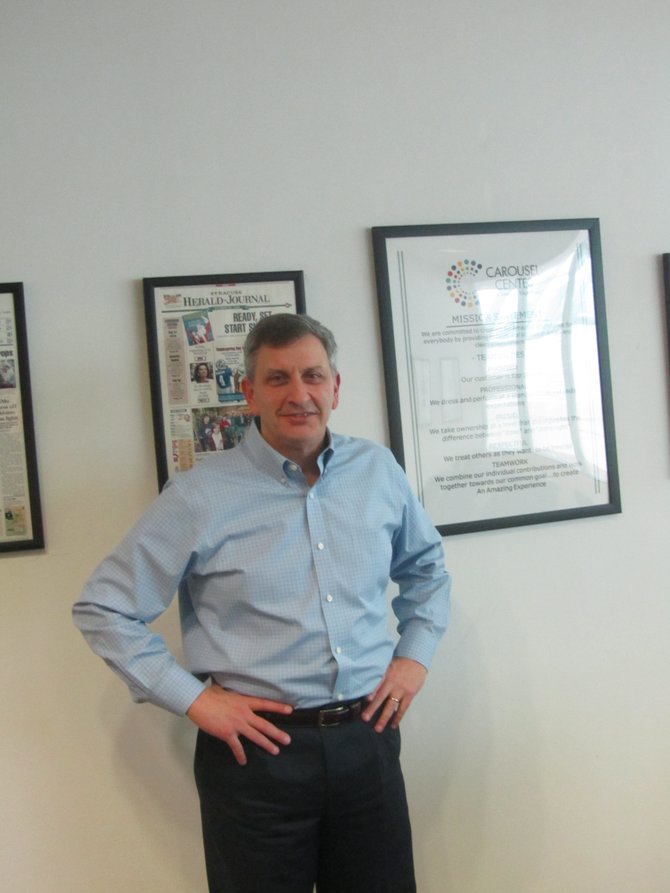 SYRACUSE — It's difficult to see where Rob Schoeneck finds any sort of free time in his schedule.
Between being the general manager of Carousel Center, having a family and refereeing Section III high school lacrosse, Schoeneck has a grueling schedule.
But to Schoeneck, who has spent the last few years prepping for the mall's changeover to Destiny USA, he does it to stay busy.
"There's so much to do," he said in a conference room on the fourth floor of the gigantic mall last week. "It's a non-stop ride."
That may be the understatement of the month. A typical day for Schoeneck would be a marathon for many. Each day of the week, he has to be up and alert for a 6:30 a.m. conference call with all the general managers of Pyramid's shopping centers.
The Bishop Ludden graduate attended the Naval Academy and got his flying wings by becoming a solid F-14 pilot, something he did for 10 years. After the stint, he earned his master's degree in information technology from George Washington University. Upon returning to the area, he landed a job in November, 1991, in housekeeping and operations for Carousel.
Years of dedication allowed him to earn the promotion to general manager in April of 2000. Since then, he's helped oversee everything that's taken place at the center.
To be a successful member of the team, Schoeneck says he has to stay on top of what the company is doing.
"Everyone participates," he said. "We talk every day about the lifeblood behind what we do. It's a constantly changing process."
That lifeblood is keeping the mall's space filled with tenants. Beyond keeping it full, Schoeneck said he has to make sure all the tenants are happy and that the atmosphere is fresh. With technology progressing faster than an Olympic sprinter, Schoeneck said it's challenging to try and constantly keep up.
(Continued on Next Page)
Prev Next
Vote on this Story by clicking on the Icon