SYRACUSE — Mike Plochocki, Onondaga County's newest legislator, has been on the job for less than two weeks. After guiding the town of Marcellus as mayor for four years (2006-10), Plochocki decided it was time to follow his dream of moving up the political chain. In November, he defeated Toby Shelley in the race for legislative district 6, which includes Marcellus, Skaneateles, Spafford, Otisco and a small southern portion of Camillus.
He has been involved in politics since he was a teenager, serving on multiple boards on his way to his current position. His past experience includes being a White House Staff Member during the first Bush Administration and being a staff attorney for the New York State Supreme Court. He's an endorsed Republican with a law school degree and a certificate in Environmental Law.
Though he's still brand new to the legislature, Plochocki took some time for a candid interview with the Eagle Observer to share his thoughts on his goals and how his first few days as legislator have gone.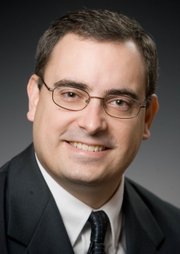 Tell me a little about your past and what led you to go into politics.
I could give a really long answer because there are many facets as to why, but frankly what it all boils down to is I watch the news and have done so for many years. [I'm] of the opinion our system is broken. It's broken in Washington and it's broken in Albany and it's broken on a local level. Everybody has opinions as to how to fix it, but nobody wants to step into the arena and do anything about it, or at least very few want to.
Can you elaborate on "into the arena"? On a local level, what do you hope to accomplish?
On the local legislature, there are several things. But first, it's vital that in the double-dip recession we're in that we keep property taxes as low as possible. I am willing to make the cuts necessary in order to make sure taxes do not rise.
(Continued on Next Page)
Prev Next
Vote on this Story by clicking on the Icon