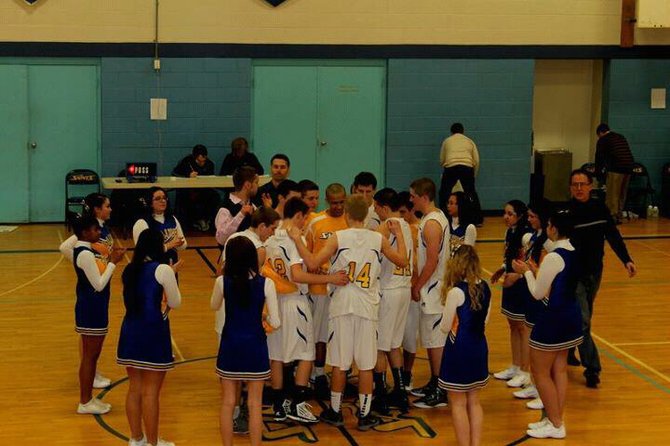 SYRACUSE — Look at most high school basketball teams - say, Jamesville-Dewitt, or Christian Brothers Academy, Liverpool, or West Genesee, or many others.
Watch their pre-game routines and rituals. Each of them are different in a small way, but at the same time they're all pretty much the same.
However, for Faith Heritage School, it's completely different.
"Before the game, we pray in the locker room," said junior forward, Dillon Card. "But afterwards (at) our home games we pray at half-court. As for our away games, we just do it in the locker room before and after."
Junior captain Charlie Mitchell explains how the prayer goes. "We pray for safety, that we play to the best of our ability,and that all the glory will be given to Him (God), win or lose," he said.
Now for some students this could really take them out of their comfort zone as they see it as weird or embarrassing but Card says it's none of those at all.
"I feel like it's good to show respect to God for letting us to be able to come out and play basketball," said Card. "Some people might find it too 'religious', I find it just showing some respect towards God."
Last Friday, Faith Heritage team defeated OHSL Patriot division leader Tully 50-44, a remarkable turnaround against a Black Knights team who beat them 61-26 earlier this season.
"It felt great to be able to get revenge on them, especially after losing by 35 points then being able to come out and beat them by 6," said Card. "My team and I were very excited afterwards."
Excited as they were, though, they didn't forget their post-game prayer, which to them keeps it all in perspective.
Faith Heritage plays at Manlius Pebble Hill Monday and then goes against Fabius-Pompey Wednesday night.
"We're in (the sectional playoffs), but if we win Monday and Wednesday we can get a home game for sectionals," said Card. "So these next two are very important."
Mitchell agreed. "I just think we need to continue to finish well, and play the entire games strong and not have spurts of poor play," said Mitchell.
Vote on this Story by clicking on the Icon