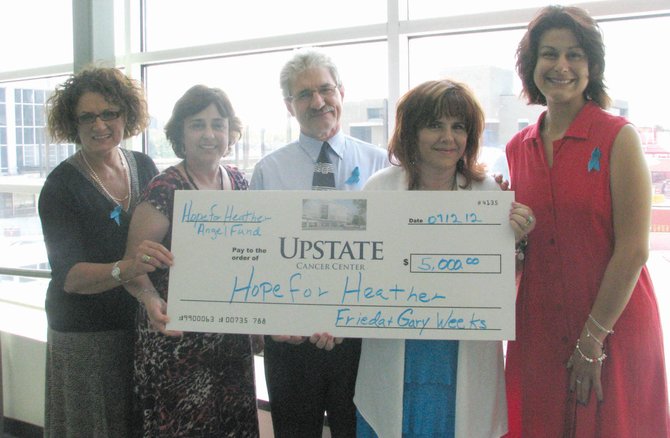 Liverpool — When Heather Weeks was facing treatment for cancer, it not only drained her physically and emotionally, but financially, as well.
"She lived over the river in New Jersey, and it was a $100 cab ride every time she had to go into [New York City] for treatment," said her mother, Frieda Weeks, of Liverpool.
It's a struggle many cancer patients and their families face. In addition to their medical bills, they have to pay for incidentals — parking at the hospital, transportation to and from treatment, food, hotel stays and more, none of which are covered by insurance.
The Hope for Heather Foundation, created in Heather Weeks' memory, has stepped up to help. The nonprofit has created an Angel Fund at the soon-to-be-completed Upstate Cancer Center to help women battling ovarian cancer with incidental expenses to help ease the burden on patients and their families.
"We're very happy to make a donation to Upstate to help women with ovarian cancer with the out-of-pocket expenses that occur with a hospital stay that people don't normally think about, such as parking, transportation to and from the hospital, rooms at Sarah House for visiting relatives, meals, wigs and scarves, incidental things that can really add up," Frieda Weeks said. "We recently had a hospital stay for our son in Rochester for 10 days. We were amazed at the out-of-pocket expenses it created for us. We wanted to reach out and make a donation to Upstate because of all the great things that they do and start a fund here for the ovarian cancer patients."
On June 10, 2008, Heather was diagnosed with an aggressive form of colon cancer. Though she had surgery to remove a tumor on July 1, cancer cells had already spread to her liver and bone marrow. After extensive chemotherapy, Heather, a 2002 Liverpool High School graduate, passed away on Nov. 14, 2008.
(Continued on Next Page)
Prev Next
Vote on this Story by clicking on the Icon