SYRACUSE — Editor's note: The following contains graphic material about animal abuse that may be upsetting to some readers.
The dog was huddled next to a trash bin at an apartment complex on Court Street in Lyncourt, barely recognizable. He wasn't tawny or tan or black or gray; he was pink from mange. At 10 weeks old, he was all alone, abandoned by his owner. On July 12, the puppy was picked up by the Salina dog warden after he was reported wandering in the area and brought to the CNY SPCA, where his case of mange was deemed so severe that it amounts to animal cruelty.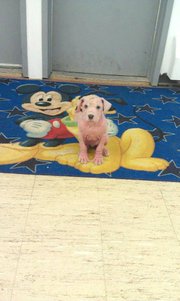 It's an all-too-common story here in Central New York, one we seem to be hearing more and more: animals are being abused, often in horrific ways. The pit bull, whom CNY SPCA staff have named Pinky, has such a severe case of mange that he has no hair on his body. Mange is a skin disease caused by several species of tiny mites, common external parasites found in companion canines. Some mange mites are normal residents of a dog's skin and hair follicles, while others are not. All mites can cause mild to severe skin infections if they proliferate. This one had proliferated, all right.
"There's just no excuse for that," said Paul Morgan, executive director of the CNY SPCA. "You have to see there's something wrong there and choose to ignore it."
Is Pinky's case, like the others before him, indicative of a larger problem in Central New York? Is there an epidemic of animal cruelty in the community?
If there is, Morgan said, it's nothing new.
"What's going on is that I'm trying to get it more in the public eye," he said. "These cases have certainly been a wake-up call, but for us, it's constant. I've been doing this for 12 years, and it's just a constant problem. We're constantly busy."
(Continued on Next Page)
Prev Next
Vote on this Story by clicking on the Icon