A dictionary will tell you that a teacher is "a person who teaches, especially in a school." The emphasis, and implied responsibility, is on the designated teacher to direct the learning – to make it happen. That's the view from the outside, but that's not completely the way it is. If education was left solely to people officially designated as teachers, it would never work – the job is too big, too difficult, too demanding.
You are unlikely to see the definition written as "a person who helps us to learn." Teaching is not always done through well constructed lesson plans, or through directed efforts to educate. Much teaching is accomplished through implication – through modeling, setting examples and being a positive role model.
Fortunately, we live in a community of teachers, countless individuals from whom students learn.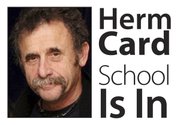 Of course they learn from their parents and they learn from their friends, but they also learn from bus drivers and bus monitors, cafeteria workers, custodians, teacher aides, substitute teachers, playground monitors, hall monitors, school safety officers, coaches, student teachers, community volunteers. These are people who bring special skills and special messages with them every day.
They pass along lessons on how to treat other people, how to react in a variety of situations, how to behave in society. They demonstrate caring attitudes. They demonstrate that people should respect others and that they should respect themselves. They demonstrate life skills and behaviors that are not part of official lesson plans, but are necessary to succeed in everyday life.
And they do this without really being thought of as teachers.
The next time you find yourself stopped behind a school bus, give some thought to the fact that the driver and monitor of that bus have the responsibility for every youngster on that bus – every day. They are taking the time to do the job right to insure the safety of children, and teach these children how to be safe.
(Continued on Next Page)
Prev Next
Vote on this Story by clicking on the Icon
More like this story