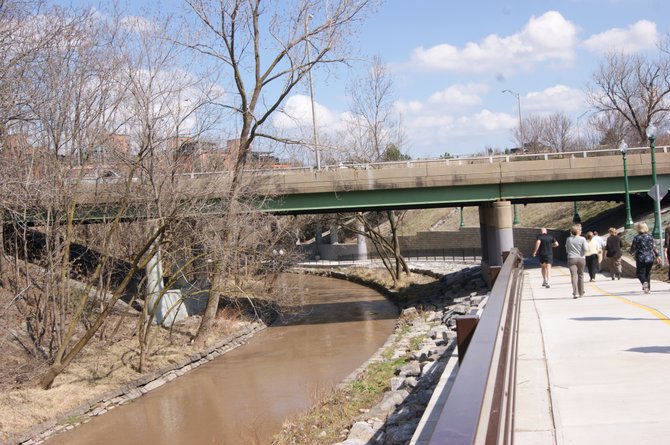 SYRACUSE — This unusual March weather has been the cherry on top of a truly unseasonable winter here in the region. While the shortfall of snow has undoubtedly forced local ski areas to pop Tylenol, it has had a positive impact in other places.
Take the Onondaga Creekwalk as an example. Back in October, the first phase of the Creekwalk was completed, the beginning of the culmination of a vision that has spanned a few mayors dating back to the 1960s. The first phase of the scenic walk spans 2.6 miles and connects Armory Square to the shore of Onondaga Lake, according to Andrew Maxwell, director of planning and sustainability for the city of Syracuse.
"Ten years ago, the city began to really work on it, and now we're expanding on it," he said.
He added there are plans for a second and third phase, but the city isn't ready to move ahead with them yet.
While the Creekwalk still has a ways to go before it is exactly how the city wants it, a class from Syracuse University -- Design Project Management -- has begun taking huge steps toward revitalizing something the students feel is a vital part of the region. The class broke apart into different groups that mimic a company the city could contract all this work out to. A broad goal for the entire class is to "embody Syracuse's mantra of scholarship in action."
Students in in the Design Problem Management class in the college of Visual and Performing Arts have been working on the project all semester. Bill Padgett and Rod Martinez are the professors of the class, and they met with representatives from the city and agreed that this project could take place. The city is sponsoring the initiative, and on April 18, the class will be presenting the final work to the school's chancellor and also to the mayor of Syracuse.
(Continued on Next Page)
Prev Next
Vote on this Story by clicking on the Icon