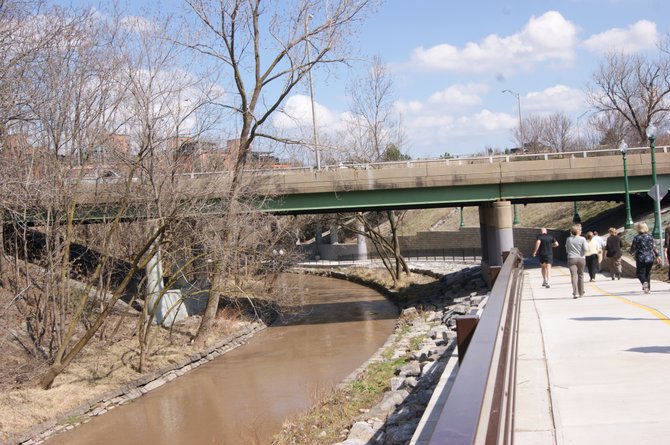 continued — Basically, the class is going to come up with a new logo for the Creekwalk, one that will go on posters, flyers and even letterheads. They are also designing signs and maps that include how to navigate the Creekwalk, and also local attractions.
"We basically want to educate people on what the Creekwalk is," said Katja Anderssen, a student and member of the class' public relations team. "We're coming up with visuals that will grab people's attention and help them navigate."
The mission statement for the project says the goal is to "conceive a distinct identity for the Onondaga Creek with the hope of promoting use of the Creekwalk."
On March 21, the class met to go over the strides being made by the different departments. Anderssen led the PR group's presentation, which went over every outlet they had contacted in hopes of getting the word out. Aside from the usual suspects -- newspapers, television news -- the group also reached out to local bloggers and independent journalists. Some had responded while others hadn't acknowledged the work the class is doing.
"It's hard to soar with the eagles when you walk with the turkeys," Martinez joked.
Still in the works for the PR team is to create a poster or flyer, something that can be noticeable by everyone who views it. It's a version of branding, and the city of Syracuse is getting all this work done at a very significant discount over hiring a special firm to do it.
"They're our pseudo consultants," Maxwell said.
He said the city had some money set aside to start the project, but when the professors approached the city, it was a great idea that was liked all-around.
"We had some resources set aside for way-finding," he said. "We didn't have enough, though, to do something like this. It's a great partnership and it's something we definitely have a need for."
Vote on this Story by clicking on the Icon