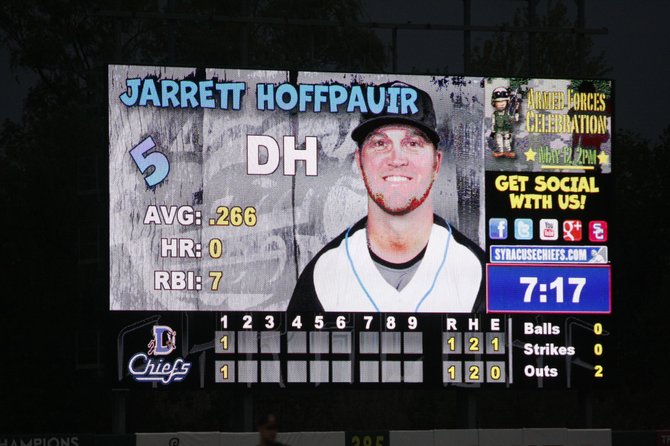 SYRACUSE — Syracuse Chiefs fans now bask in the glow of color video images beaming down upon them from a spanking new scoreboard.
Alliance Bank Stadium's left-field landmark stands 55 feet wide and 30 feet high.
It's the best physical improvement at the ballpark since Kentucky bluegrass replaced artificial turf to begin the 2008 season. That grotesque green carpet had shamed our stadium since it debuted in 1997.
The new scoreboard, unveiled May 7 before a game against the Durham Bulls, supplanted a sub-standard gizmo that often malfunctioned rendering players' names unreadable and mangling statistics.
Daktronics, a video-display company based in Brookings, South Dakota, manufactured and installed the new LED display to replace the old scoreboard which had been servicing the stadium for its first decade and a half. With a 15HD-pixel layout, the new board offers pristine color, clarity and brightness from all viewing angles. It is among the top five biggest scoreboards in minor-league baseball, according to Chiefs General Manager John Simone.
While the new scoreboard has noticeably brightened the fan experience at ABS, the Chiefs need to win some games to brighten its International League season.
After a four-game winning streak at the end of April, Syracuse has dropped seven of ten games. Over those ten games, opponents have outscored the Chiefs 58 to 38.
In the middle of that brief quartet of Ws, Chiefs outfielder Bryce Harper was suddenly promoted to the Washington Nationals. Ditto slugger Tyler Moore and closer Ryan Perry.
New faces, new places
Transitions and transactions are part and parcel of minor-league baseball, and that means that teams must continually re-invent themselves.
As several Triple-A rookies adjust to a new level and a new clubhouse, the Chiefs have struggled, dropping seven of ten games since splitting a doubleheader with the Charlotte Knights on April 28 at ABS. The newbies just up from Double-A Harrisburg include infielders Josh Johnson and Jim Negrych catcher Jeff Howell, right-handed pitcher Pat Lehman.
(Continued on Next Page)
Prev Next
Vote on this Story by clicking on the Icon