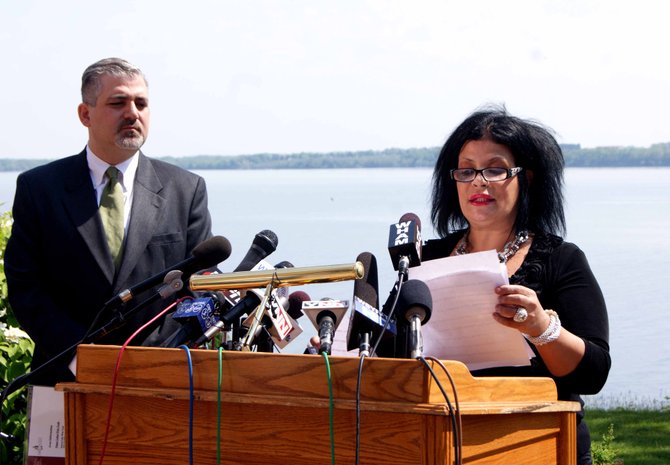 NEW YORK STATE — With Seneca Lake posing as a scenic backdrop, Laurie Fine announced at a press conference that she plans to file a defamation lawsuit against sports programming network ESPN, as well as reporters Mark Schwarz and Arthur Berko.
The 20-minute press conference took place at Belhurst Castle in Geneva at 11 a.m. Wednesday. Fine's lawyer, Lawrence Fisher, claimed they could not hold the press conference in Syracuse because Fine is unable to comfortably go out in public, due to the alleged slander she faced by ESPN.
"I have never engaged in, and condoned, despicable conduct falsely reported by ESPN, Mark Schwarz and Artie Berko," Fine said. "Although these defendants have known me to be a decent and honorable woman, they have maliciously attacked me in order to attack my husband and to boost television ratings in the wake of the Penn State scandal."
Fine announced she would be filing the lawsuit just months after ESPN published statements coming from a reportedly recorded conversation between Fine and then-ball boy Bobby Davis, 40. Davis claimed the conversation was regarding the sexual abuse he faced from former Syracuse University men's basketball team assistant coach Bernie Fine, 66.
Davis served as a ball boy for the SU men's basketball team while Bernie Fine worked at the university. On Nov. 17, 2011, Davis and his stepbrother Mike Lang, 45, accused Bernie Fine of sexually molesting them at various locations, including university basketball facilities.
ESPN published statements from the taped phone conversation, which Davis reportedly recorded without Fine knowing in 2002, on Nov. 27, 2011.
Fisher, Fine's lawyer, said ESPN irresponsibly doctored and published selected statements from the "substantially inaudible" tape. Fisher claimed the published statements were taken out of context when published, and ultimately defamed Fine's character and hindered her professional life.
(Continued on Next Page)
Prev Next
Vote on this Story by clicking on the Icon