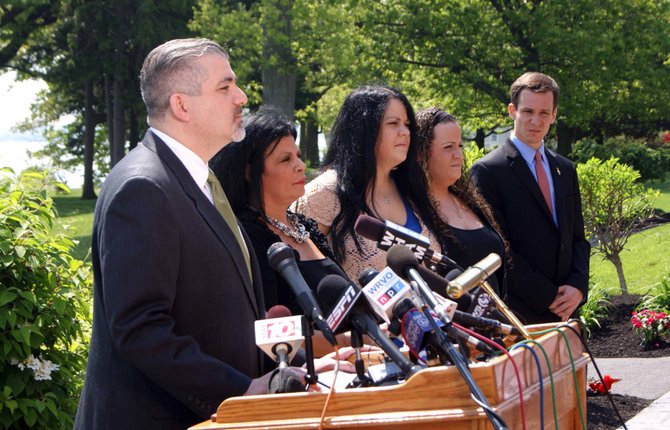 SYRACUSE — A wild case of accused sexual abuse has turned into an embittered battle in civil courts, as two people on opposite ends of the Bernie Fine abuse allegations seek justice from libel litigation.
But experts say the defamation suits by both Laurie Fine and Bobby Davis could face a long, complicated road in the court systems.
"The process itself can be onerous. It's not an easy process, and it's often not a quick process," said Sandra Baron, the executive director of the Media Law Resource Center. "It drags out over time. I think that, as a result, both sides may come away feeling that they have taken something of a beating."
That beating, Baron said, is just beginning for both Laurie Fine and Bobby Davis.
Last week, Davis's attorney, representative-of-the-stars Gloria Allred, filed an appeal to a dismissed defamation case against Syracuse University basketball coach Jim Boeheim. The suit took aim at Boeheim's comments after the allegations against Fine hit a national audience when ESPN broadcast the story of Davis and his brother, Mike Lang. The next morning, Laurie Fine, wife to Bernie, declared her intent to file suit against sports media giant ESPN. Pitched in front of the picturesque Seneca Lake, Fine and her attorney, Lawrence Fisher, said ESPN painted a picture that depicted her as a monster. Fine says the recorded phone call between she and Davis was "doctored" in a way that the excerpts libeled her.
Two cases. Two people on opposite ends of the Bernie Fine case — and both using libel litigation in a case where there have not, and likely will not be, criminal charges.
Follow the money
The financial loss is one of the most important requirements because it's what brings people to civil court. Libel is rarely, if ever, tried in criminal court, Baron said.
(Continued on Next Page)
Prev Next
Vote on this Story by clicking on the Icon