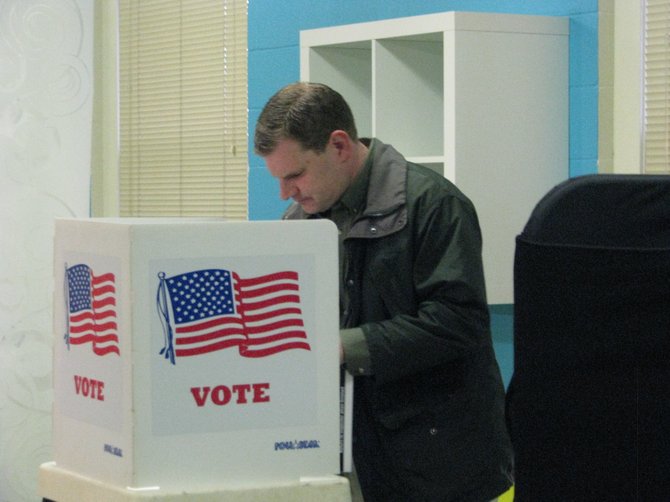 DeWitt — Democratic Congressional candidate Dan Maffei was confident as he cast his vote early Tuesday morning at the DeWitt Community Church, praising his campaign volunteers and urging Central New Yorkers to get to the polls.
"We had the largest get-out-the-vote effort that I've ever seen in this region, so I'm very proud of that," Maffei said. "Literally hundreds of volunteers who have worked not just today, but for many, many months, and I will tell you this, I am very, very confident that we have put everything into this effort that any campaign can, and I am very, very proud."
Maffei said he doubted the results of the 24th District election would be available tonight; indeed, his campaign and that of his major opponent, Republican incumbent Ann Marie Buerkle, as well as the campaign of Green Party challenger Ursula Rozum, have agreed to have all ballots impounded after the election to ensure they're counted properly.
"Everybody knows it's going to be a very close race," Maffei said. "It could come down to just a few votes. I really don't know. In all honesty, I've run in several close races, and we have not had decisions on Election Night. There are an awful lot of absentee ballots out there, and it's going to be important that we count every ballot. I would be a little surprised if we knew tonight."
He said he wasn't concerned with the potential "spoiler" brought by Rozum's candidacy.
"We just try to focus on our own campaign, getting the message out, making sure that the middle class is strong, working across party lines with everybody to make sure that we get things done for Central New York." he said. "I think that message will win."
Maffei said he was hopeful for a high voter turnout, no matter what the results of the election.
(Continued on Next Page)
Prev Next
Vote on this Story by clicking on the Icon