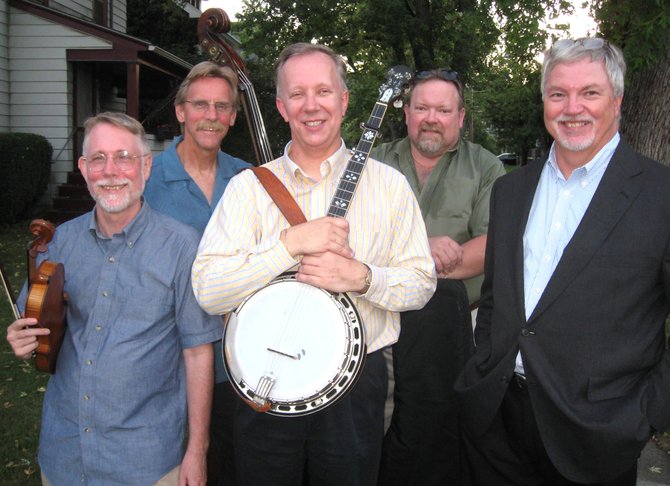 Marcellus — Raising his family in the sleepy Western New York town of Cherry Creek, Phil Allnatt would load the brood into his Ford sedan every Sunday for a drive around Chautauqua County. That sings a song about the memory, "Around the Bend."
"My dad passed away in 2004," Mark said. "And 'around the bend' is a phrase he used a lot on those Sunday rides." And so Mark – a veteran bluegrass banjo player who now lives in Syracuse – paid tribute to his father by writing the song with this memorable refrain:
And I wonder what lies 'round bend,
I wonder just how long before this road will end.
Will there be a shady grove, the voice of an old friend?
Oh, I think about it every now and then,
and I wonder what lies round the bend.
A ballad with deeply personal lyrics," Around the Bend" will be one of many Allnatt originals performed from 2 to 5 p.m. Sunday, Nov. 18, when the Central New York Bluegrass Association presents its Harvest Bluegrass Showcase Concert showcasing the Mark Allnatt Band, at the American Legion Post 297, at 131 Main St. in Marcellus.
Besides its leader, the Mark Allnatt Band features guitarist/mandolinist Ted Williams, Dobro guitarist Karl Paisley, fiddler Henry Jankiewicz and bassist John Dancks.
Mark began playing banjo on a dare. When he was 11, his eyes lit up when his uncle held a five-string banjo in front of him.
"My uncle told me that if I could learn to play a song on it, he'd give me the banjo," Mark remembered. Sure enough, Mark got the banjo, and he still plays the sizzling instrumental – "Cherry Creek Breakdown" – that he composed as a result of that childhood challenge. In 2004, "Cherry Creek Breakdown" became one of the 13 tracks on "Black Dog," the Syracuse Area Music Award-winning compact disc by John Cadley & The Lost Boys.
(Continued on Next Page)
Prev Next
Vote on this Story by clicking on the Icon