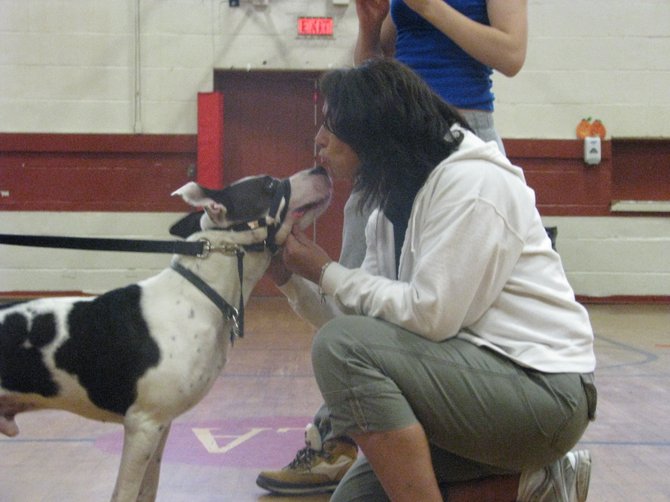 SYRACUSE — When Stephanie Heath Higgins met Grace, she could barely hold up her head.
The pit bull, at 7 or 8 years old, should have weighed around 60 pounds. But Grace weighed about 30. She was emaciated, dehydrated, suffering from an eye infection. She couldn't walk. Her organs were shutting down.
But Higgins loved her anyway.
Higgins, founder and president of Cuse Pit Crew, led the charge to gather donations for Grace's care after she was brought in by Syracuse Police Officer Rebecca Thompson, the SPD's dedicated animal cruelty officer. The dog's owner, Marquette Jamison, 35, of 1511 W. Onondaga St., was charged Oct. 3 failure to provide medical care to an animal that needs it and failure to provide proper sustenance. Both charges are misdemeanors. Jamison was released on an appearance ticket to appear in Syracuse City Court.
Meanwhile, though the community rallied around her, Grace was unable to recover from the damage that had been done to her. She had to be euthanized Saturday, Oct. 6.
"As a result of months of neglect by her owner, Gracie's condition was not curable," Higgins wrote on Cuse Pit Crew's Facebook page. "She fell into advanced kidney failure. I can assure this great community who has rallied behind her that she had the best care and every medical avenue was exhausted. I know in the short time I befriended this sweet girl that she felt the love and energy from all of you. I genuinely feel that through all of your emotional support that Gracie knew what it was like to be loved before she died.
Grace's death prompted Cuse Pit Crew to author an online petition through Change.org calling for State Sen. David Valesky to lead the state legislature in moving companion animals in New York out of NYS Agriculture and Markets Law and into NYS Penal Law. Doing so would allow those charged with the abuse or neglect of an animal to be charged with a felony; under the current statute, they can only be charged with a misdemeanor. Valesky was chosen not only because he represents Central New York, but because he is a member of the Agriculture Committee in the New York State Senate.
(Continued on Next Page)
Prev Next
Vote on this Story by clicking on the Icon