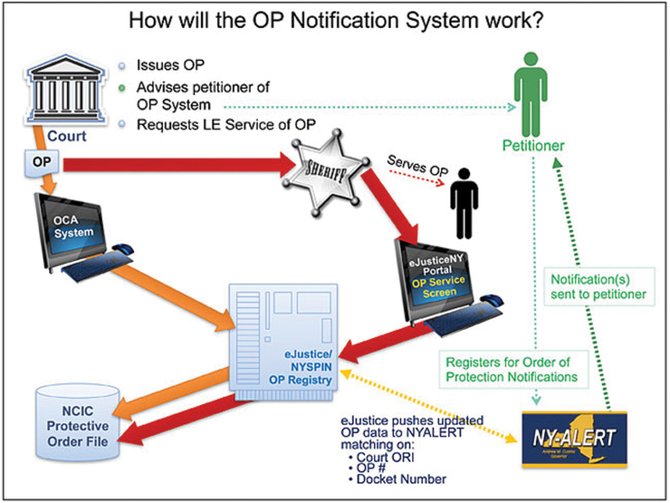 SYRACUSE — For many struggling to find their way out of an abusive situation, the most uncertain time can be after the matter is taken to court.
Now, in order to help address that uncertainty, the Onondaga County Sheriff's Department and other law enforcement agencies statewide are taking part in a pilot program that will allow those who have been granted orders of protection by their local family court to register to receive alerts when those orders are served.
New law meant to protect victims of violence
New York state lawmakers agreed on a new bill shortly before the end of this year's legislative session that would have a major impact on domestic violence survivors and perpetrators in the state. The agreement, announced June 11, was signed by Gov. Andrew Cuomo last week. The provisions include:
The creation of new felony and misdemeanor crimes and enhancement of penalties for repeat offenders, to take effect 60 to 90 days after the bill becomes law
A requirement for judges to consider certain risk factors when determining recognizance or bail for a defendant who is charged with an offense against a family or household member, including prior violations of orders of protection and access to firearms, to take effect 60 days after the bill becomes law
The establishment of a Fatality Review team to find new ways to reduce intimate partner homicides, to be established 180 days after the bill becomes law
An assurance that domestic violence offenders cannot control the disposition of a victim's remains, to take effect 30 days after the bill becomes law
Improved safeguards to protect the location of victims, including the use of a substitute mailing address maintained by the Department of State, to take effect immediately
A provision allowing survivors seeking medical and mental health services to have their insurance claims, forms or billing information sent to a confidential addresses rather than the one shared with their abuser, to take effect Jan. 1, 2013
Access to web-based training for law enforcement in topics in domestic violence response, including investigating current and past incidents, collecting evidence, conducting interviews, applying the state's mandatory arrest and primary physical aggressor provisions, and identifying possible criminal charges
"By strengthening the domestic violence laws, New York is leading the way in protecting victims and prosecuting offenders while demonstrating to the nation that we will not tolerate violence against our families," Cuomo said.
The law also had the endorsement of Vera House Executive Director Randi Bregman.
"The provisions in this law have been in discussion in one form or another for years," Bregman said. "We appreciate the legislature and the government's commitment to trying to create a safer state for victims."
(Continued on Next Page)
Prev Next
Vote on this Story by clicking on the Icon