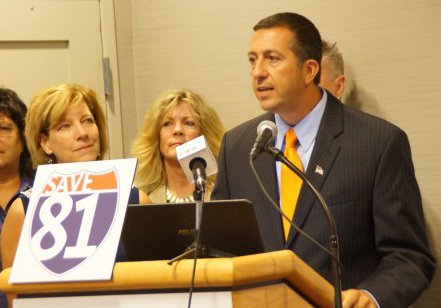 SYRACUSE — A large group of politicians, citizens and businessmen and –women have launched an initiative to encourage the state to keep a 1.4-mile stretch of Interstate 81 as it is instead of turning it into an arterial boulevard.
Savei81.org revealed itself at a press conference on Thursday, Aug. 1, in downtown Syracuse, where supporters spoke out against the New York State Department of Transportation's proposal to turn I-81's viaduct stretch, the elevated portion of the highway that runs through the central business district, into an arterial boulevard through the city with stoplights and cross streets, something the group said would irreparably damage the city's economy by creating a backlog of traffic. The group also issued a press release after the conference outlining its goals.
"I-81 is an economic backbone for our area, a vital artery that links city neighborhoods and suburban and rural areas with Downtown Syracuse and many key destinations," said Tony Mangano, Savei81.org spokesman and local business owner, in the press release. "It plays a critical role in the region's economy, public safety and accessibility. We must ensure that its current function is preserved, and Savei81.org is committed to working toward that goal."
Fourth District Legislator Judy Tassone said she signed onto the campaign because she was concerned about the impact the reconstruction might have on local businesses.
"I signed on to this campaign because I represent so many of the businesses and people that would be affected if  I-81 was to be re-routed around the city, and this would happen if they bring it down to a boulevard," Tassone said. "I am talking about hotels, small business and thousands of people that commute into the city to their jobs every day. I do not think that Albany should be making such a huge decision that involves so many of us without our complete input representing our constituents."
(Continued on Next Page)
Prev Next
Vote on this Story by clicking on the Icon