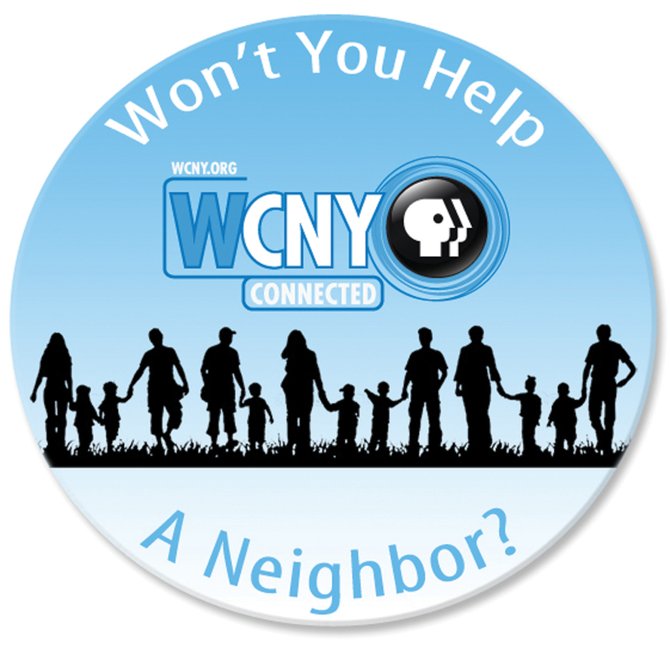 SYRACUSE — WCNY has launched a new effort aimed at helping local nonprofits. "Won't You Help a Neighbor?" uses the public broadcast station's many media resources and connections to promote causes near and dear to Central New York residents.
"It basically came directly from WCNY. We wanted to use our television, web, print, radio and social media to help make people in Central New York aware of important local causes," said Haley Dubnoff, editor and public relations manager for WCNY. "It's our way to give back to the community."
"Central to WCNY's mission is connecting with and giving back to the community that supports us," said Robert J. Daino, WCNY's president and CEO. "We are pleased to use our media platforms to focus attention on the efforts of dedicated organizations… that help make our community a great place to live."
The name was drawn from the theme song to "Mr. Rogers' Neighborhood" — "Won't You Be My Neighbor?"
"It seemed like a great idea," Dubnoff said. "When we were thinking about what we should call this, someone came up with that, and it just fit."
She said the name has proven to be a good one.
"People really like the name," she said. "It makes sense to everybody."
The effort itself kicked off Sept. 22 with a media blitz to support the Humane Association of Central New York's annual Drop-A-Thon. The event invites community members to drop off items like gently used blankets, sheets, towels, pet beds, litter pans, canned cat and dog food, dry cat food, catnip treats for cats, dog treats, cat and dog toys, non-clumping litter, air fresheners and laundry detergent at the shelter on Taft Road. WCNY promoted the event on all of its platforms — television, print, email, social media and radio. WCNY also offered up its Liverpool studios as a dropoff location.
(Continued on Next Page)
Prev Next
Vote on this Story by clicking on the Icon