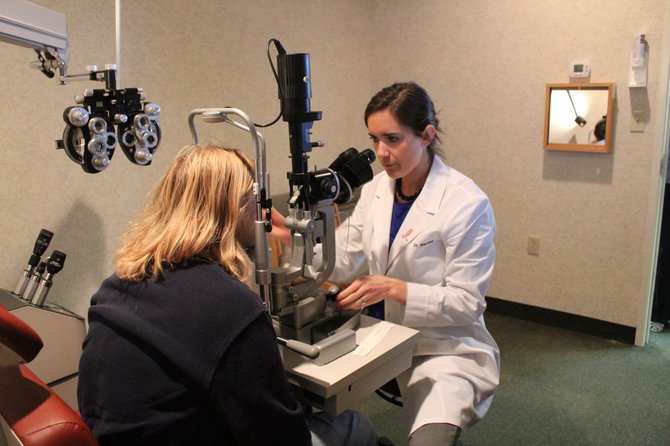 Eyecare for the Adirondacks has been helping the North Country see better for 35 years, and their business is continuing to grow.
Doctor Kjell Dahlen founded Eyecare for the Adirondacks. He was joined 20 years ago by Dr. Benjamin Vilbert. Since then they have grown to include six opthamologists, five optometrists, and 80 employees.
The mission statement at the heart of Eyecare for the Adirondacks is simple: "...to provide the highest quality eye care to every person who comes to our practice."
And come to the practice they do.
"We can see about 170 patients just in a day at the Plattsburgh location, and that's not counting what we see in optometry or in the satellite offices," said Faye Martineau, chief administrator at the Plattsburgh office.
Eyecare has opened satellite offices in Malone and Saranac lake, and do outreach clinics in Tupper Lake and Elizabethtown. The satellite offices see about 40 patients a day, and the Plattsburgh optometry section sees another 60. They also operate a surgical center adjacent to their Plattsburgh office.
One of their doctors even travels to nursing homes, so patients who don't require complicated tests don't have to be brought to one of their offices to be seen.
But, Martineau explains, they would still like to grow the business more.
"We would like to recruit a retina surgeon, to be able to provide retinal surgery to the community," she said. "The other initiative would be to provide a full cornea service which (is something) we haven't been able to do: cornea transplants."
Eyecare is actively recruiting for these positions.
Along with recruiting the best people, they strive to stay on the cutting edge of technology. All three of their locations include full optical shops.
Anyone interested in contacting Eyecare for the Adirondacks can call the Plattsburgh office at 566-2020, the Saranac Lake office at 891-8412, or the Malone office at 483-0065, or by going to their website: www.eyecareadk.com.

Vote on this Story by clicking on the Icon