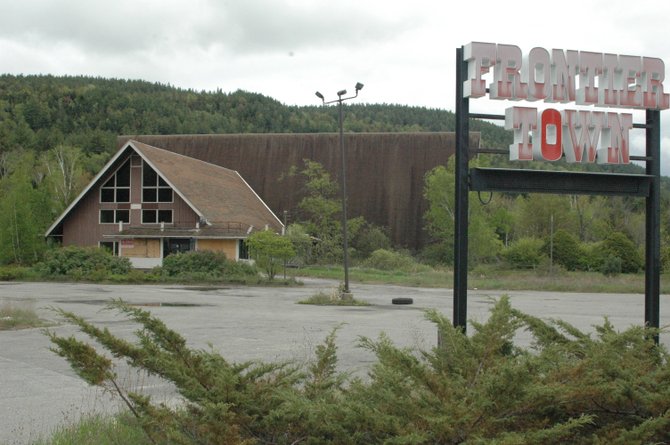 ELIZABETHTOWN — The Board of Supervisors filed into their chambers at the Government Center on Tuesday, June 3 after leaving an 87-year-old man to wait on a hard wooden bench for nearly an hour before telling him that they were officially rejecting his winning bid for the former Frontier Town property in North Hudson.
The four remaining parcels, which George Moore offered $49,500 for at a competitive auction that was advertised for months, would have completed his empire.
After the announcement, the man's lawyer ushered him outside.
George Moore sighed:
"Are we dead?" he asked his lawyer, Andrew Russell.
"They won this round," said Russell. "But until the deed is signed, we're not dead."
While Essex County has argued that they had the right to reject any bids at the auction to sell off tax-delinquent properties on April 30 — they rejected Moore's bid of $49,500 on the grounds that it did not meet the minimum reserve on taxes owed before voting to kick it over to North Hudson for $60,000 — Moore's legal team is claiming that they were not informed of a minimum reserve, either verbally or in written materials.
The Valley News reviewed the legal materials provided by the firm that brokered the auction and did not see any indication of a reserve.
George Moore later upped his bid to $65,000, $5,000 more than North Hudson's bid, but supervisors still voted June 3 to accept the bid made by North Hudson Supervisor Ronald Moore on behalf of his town.
"It's just wrong," said Moriah Supervisor Tom Scozzafava, who voted against the handover. "The bottom line is that you better have good reason why you reject the bid. This wasn't a good reason."
Ronald Moore (no relation to George) told county officials that his town's economy was crippled by the large amounts of state-owned land that prohibited economic development. The parcels, he said, would act as a much-needed lifeline.
(Continued on Next Page)
Prev Next
Vote on this Story by clicking on the Icon