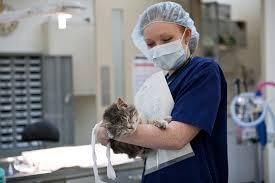 SYRACUSE — Every year, more than 1,000 cats and dogs are euthanized purely because the shelters have no place to put them.
According to the Animal Alliance of Greater Syracuse (AAGS), an animal welfare agency that serves all of Central New York, the Syracuse area has a higher rate of euthanasia than any other area in Upstate New York. In the meantime, hundreds of homeless pets die on the streets.
"Our animal shelters are full. Our rescues are full. People who have to re-home their pets have no place to go," said AAGS Vice President Donna Chambers. "Thousands of animals are 'dumped' on our streets each year, often to reproduce and add to the problem of homeless animals, while too many to count land in our animal shelters facing euthanasia."
In an attempt to reduce those numbers, which Chambers called "unacceptable," the AAGS is raising money to start a low-cost spay/neuter clinic to limit the number of animals on the streets.
"We want to reduce the numbers of homeless, uncared-for animals," she said. "In addition, every animal altered at the clinic will also be vaccinated for rabies, increasing not only their health, but the quality of life for the community in general."
The vet clinic is just one of the group's efforts. The AAGS was formed in 2010 to "unite local organizations to create humane solutions leading toward the day when there are no more homeless pets," according to Chambers. The organization also lobbies for stronger animal cruelty laws and provides humane education programs; the bully breed rescue group Cuse Pit Crew falls under the AAGS umbrella.
Chambers said providing care for animals — an incredibly vulnerable population — helps the entire community.
"Ghandi's quote, 'The greatness of a nation and its moral progress can be judged by the way its animals are treated,' is appropriate here," she said. "Do we really want our community known as having the highest euthanasia rate in upstate? While the high numbers may actually apply only to the city of Syracuse, the whole of Central New York suffers by association."
(Continued on Next Page)
Prev Next
Vote on this Story by clicking on the Icon