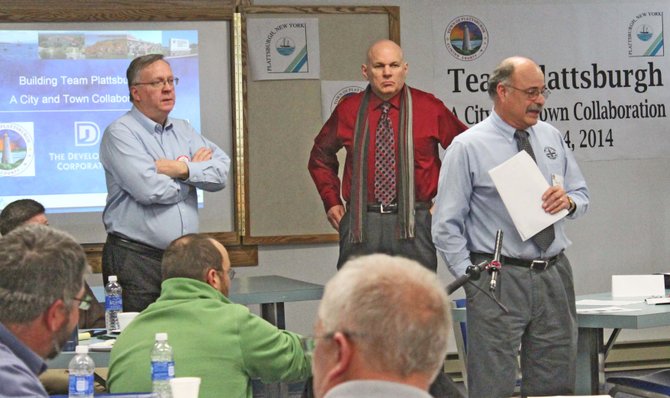 Plattsburgh — Department heads from both the city and town of Plattsburgh met for several hours to brainstorm on how they can work together to provide better service at lower costs.
The first meeting of "Team Plattsburgh, a City and Town Collaboration" was held March 14 at the Plattsburgh town office building. After meeting individually by department for several hours, each of the various departments were asked to sum up that they were able to take away from the session.
The consensus sentiment was that the meeting and the direction the town and city are taking are positive and should be pursued. Many departments, such as the Parks and Recreation and Highway departments, advised that they already work together in varying fashions, and this will only enhance their ability to bring quality services to the North Country.
Economy of scale in purchasing was also touched upon as a possible money-saving move.
Ward 5 Councilor Becky Kasper pointed out the possibility of going even farther with the concept.
"If we're able to get this collaboration up and working, then even getting together and piggy-backing with the county (would be possible) as well," she said.
"Our concerns that, can we continue down this path and control costs, are shared by all of you," said Plattsburgh Town Supervisor Bernie Bassett. "We do want to send the message that Clinton County, The Champlain Valley, the Adirondack Coast, is the place to move to, to grow your business and to invest."
Echoing that sentiment, Paul Grasso, President and CEO of The Development Corporation, said that meetings like this will make his job easier when he is in Canada trying to get businesses to move to greater Plattsburgh. Businesses, he said, are very aware when there is political tensions in a region. Seeing the city, town and eventually even the county working together will make Plattsburgh a more appealing place to move their business to.
Plattsburgh Mayor Jim Calnon expressed the desire that departments, on their own, schedule monthly meetings to follow up on the success of this meeting.
"If you have your "brown bag" meetings once a month, I'll pay the bill," said Calnon.
Before the meeting disbanded, Plattsburgh Planning Department head Phil VonBargen, referencing the overall tone of the meeting, presented Bassett and Calnon with a mocked-up sign. Below the city and town seal read the word "Snuggleburgh."
Vote on this Story by clicking on the Icon