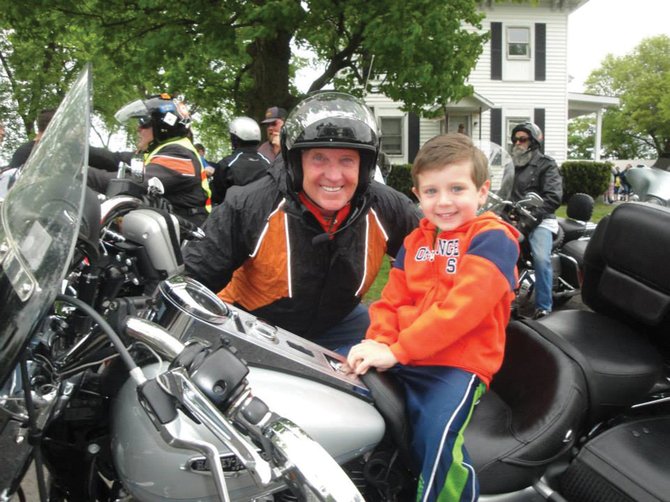 North Syracuse — For several years, Tony Testa and his wife, Becky, participated in the Miracle Ride for Upstate Golisano Children's Hospital. Both were motorcycle enthusiasts, and they enjoyed helping to raise money for the children's hospital.
But in 2004, it got personal.
"My stepson, Jim, had a child who was born in 2004, Aiden," Testa said. "Aiden was born with quite a few challenges."
Watch out for motorcycles
The 20th annual Miracle Ride, a 62-mile motorcycle ride that raises money for Upstate Golisano Children's Hospital, will take place Sunday, May 18, starting at the Spinning Wheel Restaurant in Cicero. Registration begins at 10 a.m., and the ride itself will begin at noon. Cicero Police Chief Joseph Snell, who coordinates traffic control for the ride along with the Chittenango and Cazenovia police departments and the Madison County Sheriff's Department, urged motorists to make note of the ride and be cautious of the riders.
"People need to be aware that the ride will be going on," Snell said. "There will be several hundred bikes in this ride, so be cautious of them. It might be better to pull over and give them the right of way."
The route starts at the Spinning Wheel on Thompson Road. Riders will then go up South Bay to Route 31 and into Madison County. From there, they'll take Lakeport Road to Chittenango, then take Route 13 into Cazenovia. Riders will then circle back and take the same route back to Cicero.
For more information about the Miracle Ride, visit foundationforupst....
Aiden Snell was born with Pierre-Robin Syndrome (PRS), a birth defect that causes cleft palate, smaller-than-normal or underdeveloped jaw, a tongue that sits back too far in the throat, obstructing breathing, and several other issues. The genetic condition affects approximately one out of every 1,500 children. In Aiden's case, the disorder required surgery just a few days after he was born.
(Continued on Next Page)
Prev Next
Vote on this Story by clicking on the Icon