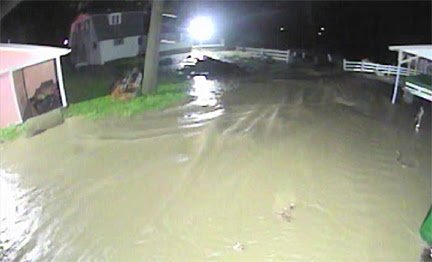 Heavy rains in Western New York have done significant damage to a camp that provides a respite for kids and young adults touched by cancer.
Camp Good Days and Special Times in Branchport experienced more than $160,000 in damages in last week's floods in and around Penn Yan, in Yates County, and that number is expected to climb as workers continue to assess the camp. The damage was so catastrophic that the camp has had to cancel its first sessions of the spring.
"[We've had to cancel] our Young Adult Retreat," said Claire McKenney, Camp Good Days' Central New York regional director. "This retreat is for young adults ages 18 to 39 who have been diagnosed with cancer and/or undergone treatment for cancer within the past five years. We have a family retreat in a couple weeks that we will have to cancel, as well."
McKenney said it would likely take at least a month to clean up the mud, water and debris.
"We may have to take an entire camper cabin down," she said. "It's so sad. The creek that neighbors our camp was literally running through two of our cabins."
Fortunately, the rain has stopped, but the risk for other complications remains.
"Now we run the risk for mold, and hopefully the foundations to our buildings are not too damaged," McKenney said. "We'll see as it dries out. We're sure the drywall will have to be redone in many of our buildings."
The camp was founded in 1979 by Gary Mervis after he watched his daughter, Teddi, suffer from the loneliness and isolation of being the only child in her group of friends dealing with cancer. Mervis took Teddi and 60 other children with cancer from Rochester, Buffalo and Syracuse to a camp he rented in the Adirondacks, and he kept the camp going after Teddi passed away. Since its inception, the Camp Good Days has served more than 43,000 campers from 22 states and 28 foreign countries. The camp now serves children who have been diagnosed themselves with cancer, children who have a parent or sibling diagnosed with cancer and children who have lost a family member to cancer. There's also a weekend retreat for women, men and young adults who have dealt with a diagnosis, as well as a brain tumor family retreat for families in which a member is dealing with a malignant brain tumor.Among its programs are summer overnight programs, retreats, support groups, day camp and day trips around Western and Central New York. Camp Good Days serves about 1,500 campers a year. All programs are free of charge.

(Continued on Next Page)
Prev Next
Vote on this Story by clicking on the Icon